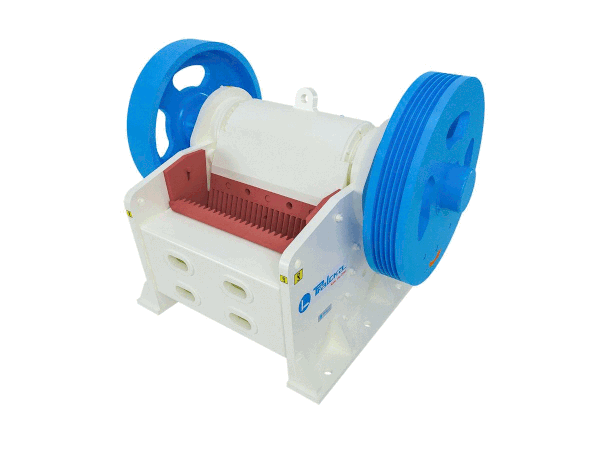 Pralcka Jaw Crushers are designed by 40 years well experienced and qualified engineers. The Crusher is designed to produce more quantity at a lesser cost. Low wear and Tear.
Reasons
Pralcka Jaw Crushers are incorporated with imported technology. The materials used are very rigid.
It is a single Toggle Jaw crusher enable to run on very low horsepower motor at very lesser electricity consumption.
The advantage of a welded frame is that it is equally strong in all directions and ensures excellent durability against shock loads. Thus minimizing the risk of failure on the mainframe.
The power transmitted to the eccentric shaft to make the pendulum movement of moving jaw stock to magnesium jaw plate in the crushing chamber to obtain more production.
Performance
Pralcka Jaw Crushers are trouble-free operations and increased optimum life. Roller Bearings are grease-lubricated and labyrinth seals to prevent the entry of the dust and grease leakage.
Designed with sacrificial parts to protect the main components of the crusher such as frame, Swing Jaw & Bearings. This reduces Total life cycle costs and increases uptime, as it is less expensive to change the sacrificial parts than the main components.
CSS adjustment made with easy hydraulic system.
The output material is in Cubical Shape.
Specifications
| | | | |
| --- | --- | --- | --- |
| Model No | Feed Size (mm) | Capacity (TPH) | Power HP ( kW ) |
| PRJC 9015 (36×06) | 125 | 30 – 35 | 50 (37) |
| PRJC 9020 (36×08) | 175 | 30 – 35 | 50 (37) |
| PRJC 9025 (36×10) | 225 | 50 – 60 | 50 (37) |
| PRJC 6025 (24×10) | 225 | 25-30 | 50 (37) |
| PRJC 6040 (24×16) | 375 | 40 – 45 | 50 (37) |
*Average Crushing Capacity in tons per hour
View more products