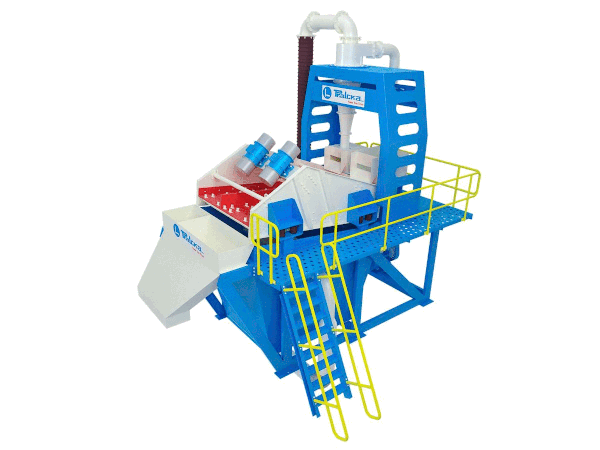 Pralcka Finewash is designed for extracting a wide range of fine materials. Two grades of sand produced in a single dewatering screening process. Enhanced performance through centrifugal force by the spin. High application versatility achieved through various size and configuration.
Working Principle
Dust from the vibrator feeds into the input chute and mixed with water. Primary dewatering screen receives the mixture and separates coarse material and feeds remaining slurry into the sump. Centrifugal pump feeds the slurry into Hydrocyclone. Due to the centrifugal force, the hydrocyclone segregates fine sand downwards and slurry upwards the fine sand feed to secondary dewatering screen for removal of moisture content.
Features
Manufactures large quantity of fine sand.
Mass production.
Produces two grades of sand.
Excellent fine recovery.
Economical in operation.
Less water consumption.
Model No
PRFW 400
PRFW 500
PRFW 600
Capacity (TPH)
50-100
100-150
150-200
 

Slurry Pump

Suction (mm)
100
150
200
 Delivery (mm)
75
100
150
Slurry Pump Motor kW (hp)
15 (20)
30 (40)
37 (50)
Dewatering Screen (mm)
3060 x 1540
3060 x 1840
3060 x 2440
Dewatering Motor kW (hp)
2.1 (3)
3.1 (4)
4.3 (5.7)